In response to the recent Provincial Government decisions around the Royal BC Museum
---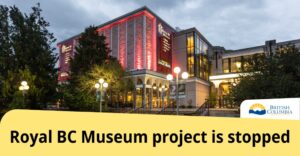 We at Heritage BC have been following the recent announcements regarding the Royal BC Museum. We are greatly concerned by fallout from the recent decisions of the Provincial Government to make a major announcement for a new Royal BC Museum (RBCM), and then to 'pause' the project. The sector and the public was left to imagine what $789-million would be spent on. Without detail to understand the intent, it is not surprising that the argument that there are other more important priorities, such as health care, was ignited.
Unintentionally the heritage and museum sector were also triggered to be divided between the exciting possibilities of a new provincial museum and the truthful lament that there is no plan to address the immense need for heritage and museum investment throughout the province.  The decision to pause the project did no favour to the sense of value of the RBCM and indeed the whole heritage and museum sector, as it optically 'proved the point' that museums and heritage should not assume themselves to be an important priority.
It has been consistently proven that investment within our sector gives an impressive return and that many thousands of professionals and volunteers work in the sector providing valuable benefits of public facing engagement, research, administration and stewardship of assets that define and reflect community interests and culture.  The heritage/museum sector is fragile with woefully inadequate funding for not only programming and operations but deferred maintenance.  We work diligently to satisfy policy expectations of funders, and aim for more occasions when funding allocations demonstrate our sector's rightful place within a political realm.
Premier John Horgan tried to communicate that the RBCM remains a priority to his government and the pause is for a 'second look', but unintentionally our sector is now on the defensive. We are left having to prove our value against a very vocal outcry for other necessary priorities.  Being equal in priority to other sectors does not mean expecting equal investment dollars to others, but we should be able expect our government to effectively communicate that they can unequivocally fund and support equitably and fairly multiple priorities simultaneously.  The recent events have made some feel an erosion of our sector's legitimacy as a high-ranking priority deserving of transformational funding.
Let us continue to demonstrate that funding is needed across the province and for a wide range of providers of heritage, museums, arts/culture and that the Province also needs a new Provincial Museum. It is far too easy to let the political opposition claim 'no one asked for a new museum', when we know such sentiment is opportunistic and simply not true.  Had the right communications and presentation of the plan around the RBMC been provided, the questioning about the price tag might have taken us in a direction that was productive for heritage and museums overall.  The answer to the question of 'why fund culture (heritage, arts, museums)?' is because the public wants it.  If the public did not want it, Heritage BC's and almost every other cultural granting funding stream would not be unimaginably oversubscribed.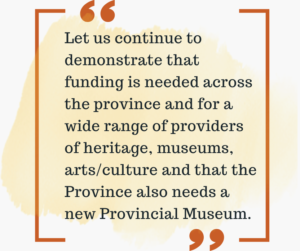 People and organizations value heritage and museums for what they can do for community to advance a sense of well being and place, reconciliation not only with indigenous communities, inclusivity, and diversity. We need these community attributes to improve in order to take our communities forward positively. Heritage and museums are active and resourceful partners prepared to do that job.
June, 2022
Kirstin Clausen, Executive Director
---
Heritage BC has long been an advocate for expanded funding in the heritage and cultural sector in BC. Part of our advocacy is to empower our community members and fellow heritage advocates to make the case for heritage in your communities. Read our guide to learn how you can develop and communicate your case for culture and heritage in BC.